This is my second post on Truth in Housing electrical issues. As I highlighted earlier in Truth in Housing Preparation: Electric Part 1, if you are getting ready to sell your home, you probably have some electric issues that should be taken care of prior to putting your house on the market. Part 1 of this series covered a number of easy electrical fixes that you can take care of yourself. My focus here in Part 2 will be electrical issues that should be addressed by a licensed electrician.
Broken or Damaged Outlets and Switches
Depending on the city where you live, outlets and switches that are broken or damaged will be labeled as Hazardous (H) or Repair Replace (RR) on a Truth in Housing evaluation. The reason for this is quite simple: live current runs through these devices and when they are in a state of disrepair, they become a shock and fire hazard in your home.
While the plastic parts on receptacles and switches are designed to last for years, they do break down through repeated use, from accidentally being struck, or from any number of other abuses.



Have a look around your home, particularly if it is older. If you find a receptacle or switch in a state of disrepair, call a licensed electrician and have it changed out. If you take care of these items before your Truth in Housing inspection, you'll be ahead of the game. Except for in St. Paul and Maplewood, these are required repairs anyway.
Faulty Wiring at Outlets
Reversed polarity outlets (hot and neutral wires reversed) and ungrounded 3-prong outlets are two of the most common electrical deficiencies found in a home. As a home inspector, I see these outlets all the time. And when I do, there is one thing I know with certainty: it wasn't wired by an electrician.
Without getting technical, it is enough to say that reversed polarity outlets and ungrounded 3-prong outlets both present a shock hazard in your home. If you have outlets like this, depending on the guidelines for your municipality, your Truth in Housing evaluator is going to label these as Hazardous (H), Below Minimum Standard (B), or Suggested Correction (SC). Even if you are not required to replace them, none of this sounds good on a report.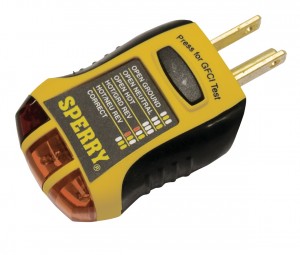 Do yourself a favor and purchase an electrical outlet testing device like the one pictured here. Plug it into an outlet in your home. The lights on the tester will light up and show you whether your outlet is wired correctly. If it indicates reversed polarity or an open ground (ungrounded 3-prong outlet), call in a pro and have it fixed. If you choose to do nothing, your house gets dinged on the Truth in Housing report, and you will likely be asked to fix them anyway when your home goes through a buyer's inspection. Be proactive here and take care of these items before they really have a chance to become a problem.
Missing Junction Boxes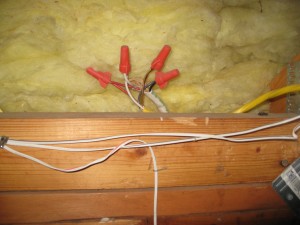 Unless you live in an older home with knob and tube wiring, every electrical splice is required to be inside a junction box. The DIY special seen in the photo here should be considered both a shock and fire hazard. Apart from St. Paul and Maplewood, this is a required repair on a Truth in Housing evaluation.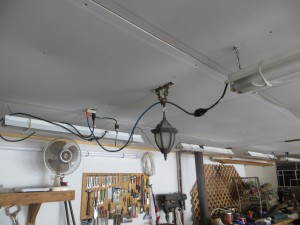 Missing junction boxes also become an issue when an inspection reveals extension cord wiring used as a permanent power source. This scenario is typically found in basements, where an outlet box is not close enough to supply power to washing machines, dryers, or overhead lights. Extension cords are also commonly used to power garage door openers. Depending on municipality, extension cord wiring gets labeled as Hazardous (H), Suggested Correction (SC), or Repair Replace (RR).
If your home needs a junction box for either of the above reasons, call an electrician and get it done. No need to wait for your Truth in Housing inspection. Missing junction boxes are a clear hazard that need to be corrected.
Preparing for Truth in Housing doesn't have to be hard. If you will address the electrical issues highlighted here and in my last post, you'll be well on your way to a clean report and having your house in the best possible shape as you head to market.